By: Edward L. Blais, JD, CIC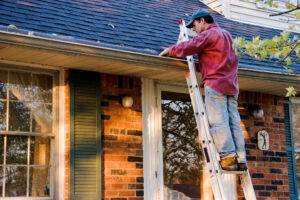 We tend to associate working on our homes with the spring, which does make sense since winter really does a number on the typical house. But if you didn't get to it this year, don't give into the temptation to just catch up next time. 
Home maintenance must be done on a regular basis. It's not something you can skip. 
Think about what would happen if you didn't check the oil in your car, or the pressure in the tires. Eventually, you're going to have big problems that are expensive to deal with. 
Like your car, your house has a lot of parts that need regular checking and maintenance. Think about your roof. Think it's a hassle to repair a few broken shingles? Just wait until you need a whole roof replacement. Tired of tinkering with your water heater? You might get a second wind when you see the cost of a new one. 
And if you're counting on homeowner's insurance to take care of that, keep this one caveat in mind: recovery under your homeowner's insurance policy necessarily assumes that you've properly maintained your home and the systems within it. For example, if the roof leaks because the shingles are 40 years old—perhaps 10 years older than the manufacturer's recommended life of the shingles—that could preclude recovery.
Doing home improvements and basic maintenance doesn't just help you avoid big bills. It can also become an investment by boosting the value of your home. A home without any major issues is going to be more marketable to buyers than one that has a daunting list of repair jobs. 
Besides financial considerations, home improvements have one additional obvious benefit. Living in a home with a roof that doesn't leak and a water heater that works, to take our two examples, is going to be more comfortable than the alternative. 
Of course, there's a lot more to keep tabs on than just the roof and the water heater. It can be dizzying if you think about it. So we've made it easy for you. 
The Andover Companies has developed a checklist of 10 key items to focus on, from the foundation to the gutters. Click here to view and download the list. 
(Note: Sources included Fine Magazine and Thrive Global.)