Our experienced insurance agents will offer you the best coverage at competitive rates. Whatever your insurance needs are, we have the insurance company for you.
Our auto policies are for all drivers regardless if previously insured or who have had difficulty obtaining auto insurance.
Our policies feature:
Immediate Coverage
Convenient payment plans
Claim-Free Discounts for specified periods of time
Driver Training Discounts
Good Student Discounts
Driving Safety Courses
Available Services
Low Down Payments
Package Policy Discounts
Driver Training Discounts
Good Student Discounts
Transfer Discounts
Glass Loss
Even if you believe damage to your vehicle is insignificant, report all incidents causing damage to your vehicle. For example, don't ignore even a rock chip on your windshield. This could eventually lead to a larger break and require a replacement. Windshield chips reported early can often be easily repaired. most insurance companies waive the policy deductible when windshields are repaired (waiver does not apply to replacement).
401-725-0070
One Walker Street
Lincoln, RI 02865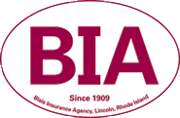 Office Hours:
Monday-Friday
9AM to 5PM
Closed Saturday